Our Team
Our entire staff is comprised of extremely bright individuals, each contributing their unique skills and attributes as members of our team. Norak's approach is team based, and our collaborative efforts culminate in the highest level of products and services to offer our clients.
Management and Key Office Personnel
Mr. Peter Ober
Mr. Mykel Yusyp
Mr. Vasudev (Vas) Yanamandra
Mr. Afshin Kiyomarsi
Mr. Jun Conrado
Mr. Kenrick Quaccoo
Ms. Aliyeh Khajeh
Mr. Rabindra Diaram
Ms. Fern Whitelock
Mrs. Allison Ober-Barker 
President
Project Manager
Project Coordinator
Senior Estimator
Detailing Coordinator
Plant Superintendent
Accounting Manager
Purchasing Manager
Reception / Administration
Project Coordinator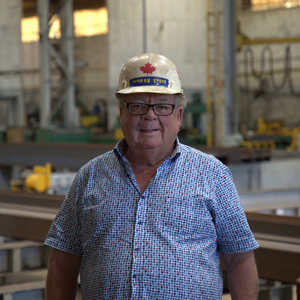 Peter Ober, President
Fabrication Shop
Norak Steel employs a variety of exceptionally skilled and dedicated tradesmen, with expertise in every stage of the fabrication process. From receiving material to shipping finished steel and every phase in-between, you can rest assured that our specialized fabrication process is amongst the industry's best. Every member of our team is dedicated to the role they play – be it a Fitter, Welder, CNC Operator, or other specialist - right down to Shop Helpers. Together they create our finished product: fabricated steel of the highest quality – steel that is amongst the best available in the market that we serve.